Modern production organization - Wonderware MES in LOTOS Asfalt
| Prezentacje firmowe

Artykuły
The purpose of MES (Manufacturing Execution System) is to deliver data, which enables optimalization of production processes, from the customer's order to delivering final products. This process includes automatic data collection, which enables tracking of the current and historical production process, machine efficiency and production quality. These platforms give us quick and concrete information about production order details. As a result, production effectiveness rises and high quality of products is preserved.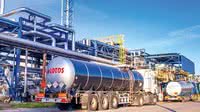 LOTOS Group is the second biggest oil refinery in Poland. The company is one of the leading asphalt producers in Europe. Market and branch leaders are supposed to follow the market trends including modern production technology issues and the production organization itself.
In case of production on such a large scale, it is not easy to estimate and precisely indicate the opportunities of increasing the production output. Despite existing measurement systems and indices describing the production process, because of their wide distribution (spatial distribution and belonging to different OT and IT systems), data management and its interpretation were difficult to execute.
The solution was to implement one platform, accumulating all the measurement devices. Wonderware MES enabled acquisition and processing the data from measurement devices, counters, analysers, lab systems and data processing systems implemented in the LOTOS Group, in the real time, 24/7. Such solution fits in the idea of Industrial Internet of Things (IIoT), which assumes integration of big amount of data from systems distributed within one production plant, with a possibility of continuous access to current data.
For an end user, MES - as an IT system - enables monitoring of current production parameters and production execution according to the plans. Thanks to collecting all the data in the same database, it can be easily aggregated and all the process, business, production and effectiveness indicators can be easily calculated.
MES implementation makes the production personnel work much easier - thanks to precise production planning, so that the production systems availability is optimized in regard to incoming orders, but also the genealogy of production is retraced in the overall system. It optimizes the process and the final product.
MES systems become the standard of modern production plants, making a significant step forward Industry 4.0. "Such systems introduce a lot of improvements for the managers and thus will be a basis of modern production management" - foresees Mariusz Pacana, Production Manager, LOTOS Asfalt.
ASTOR
www.astor.com.pl/en